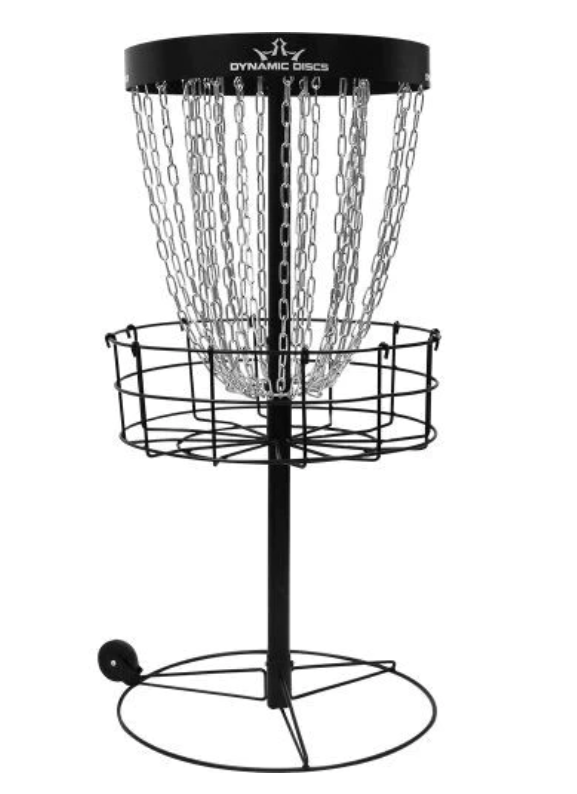 Recruit Basket Disc Golf Target
---
In stock, ready to ship

Inventory on the way
Ask every top-level player if putting practice is important and you will get a unanimous, "Yes!" It is ideal for each golfer to have their own practice basket. Most durable, permanent baskets will cost over $400, and cheaper baskets have thin and few chains leading to disappointing practice sessions. The Recruit Basket is perfect as it is tournament quality at practice price. This basket can be put together and taken down in about 2 minutes. It also comes with all the necessary hardware and tools. The Recruit has 26 strands of chains on the inner and outer layers. Weighing in at approximately 60 lbs, the basket is sturdy and with the built-in wheel on the base, it is very easy to move. Get ready for tournaments. Get better. Get the Recruit.
Color: Matte Black
13 inner and 13 outer chain sets that are zinc coated
The Recruit Basket is electrophoresed first and then powder coated for extra protection from natural elements
Tension screws are included for increased stability
The Recruit Basket is approved at the Standard PDGA level which means the basket can be used in play for any event up to, and including, a B-Tier
The top band on the Recruit Basket is 3" tall
The Recruit Basket is easy to carry in a car's trunk because the pole is made of two parts
The Recruit Basket is mainly meant for portable use. Permanent installation, or prolonged exposure to the elements, can eventually compromise the integrity of the basket's composition
Shipping for this basket is FREE to the continental United States.
Baskets
WILL
ship and arrive separately if you order other items with it.
Baskets will only ship to a physical address. PO Boxes are not accepted.
Discounts do not apply to golf bags or baskets.
*Please note:
If this basket is returned for any reason other than a defect, the buyer will be refunded or credited for the original purchase price minus the original shipping cost paid by 3C Discs.
Limited Warranty
Dynamic Discs Recruit baskets are covered under warranty against failure due to manufacturing defects. Should your Recruit basket be determined by Dynamic Discs to be covered by this warranty, it will be repaired or replaced at Dynamic Discs sole option. Your limited warranty does not cover costs for labor, removal, or the installation of warranty parts. Your warranty does not cover Recruit baskets which have been damaged due to misuse, abuse, or accident such as:
vandalism
improper or unauthorized repair
fire, flood, "acts of God," or other contingencies beyond the control of Dynamic Discs
powder coated finishes are not covered from chipping, scratches, or fading.
rust and corrosion (caused by prolonged exposure to the elements)
If you are in need of warranty service contact Dynamic Discs and they will be happy to review your warranty request. It is their goal to do everything they can to make sure you are happy with your Dynamic Discs equipment purchases. Please contact them if you have any questions by email at warranty@dynamicdiscs.com.